In a highly competitive market, it's crucial for brands to stand out and attract customers' attention. One effective way to achieve this is through carefully customized Window Display Props. These props not only showcase the brand's unique personality but also attract customers to stop and watch, thereby improving sales performance.
What are Window Display Props?
Window Display Props are display devices used in stores, brands, exhibitions, and other places. They are usually used to attract consumers' attention and showcase products and brand image. The design and production of Window Display Props need to fully consider brand positioning, target customers, and the characteristics of the displayed products to create a unique visual effect.
Window Display Props usually include the following categories:
Structural props: These props usually have a certain structure and support function, such as display walls, stands, shelves, etc. for building window backgrounds. Structural props can be customized according to window layout and design requirements to adapt to various spaces and scenes.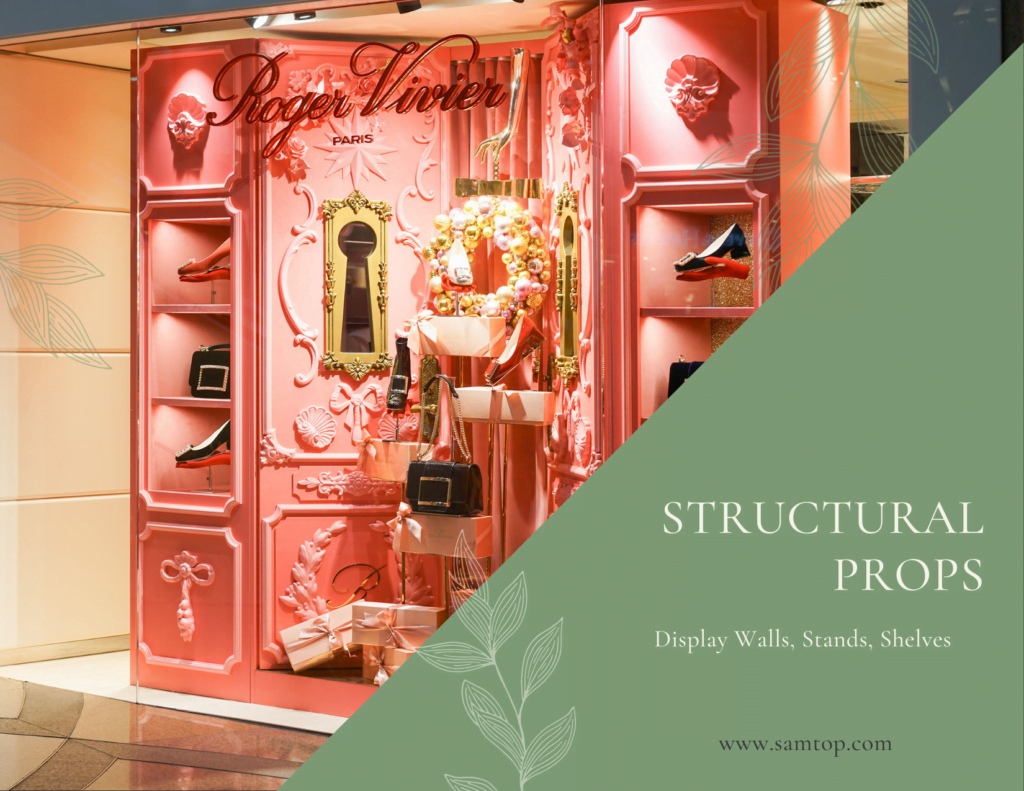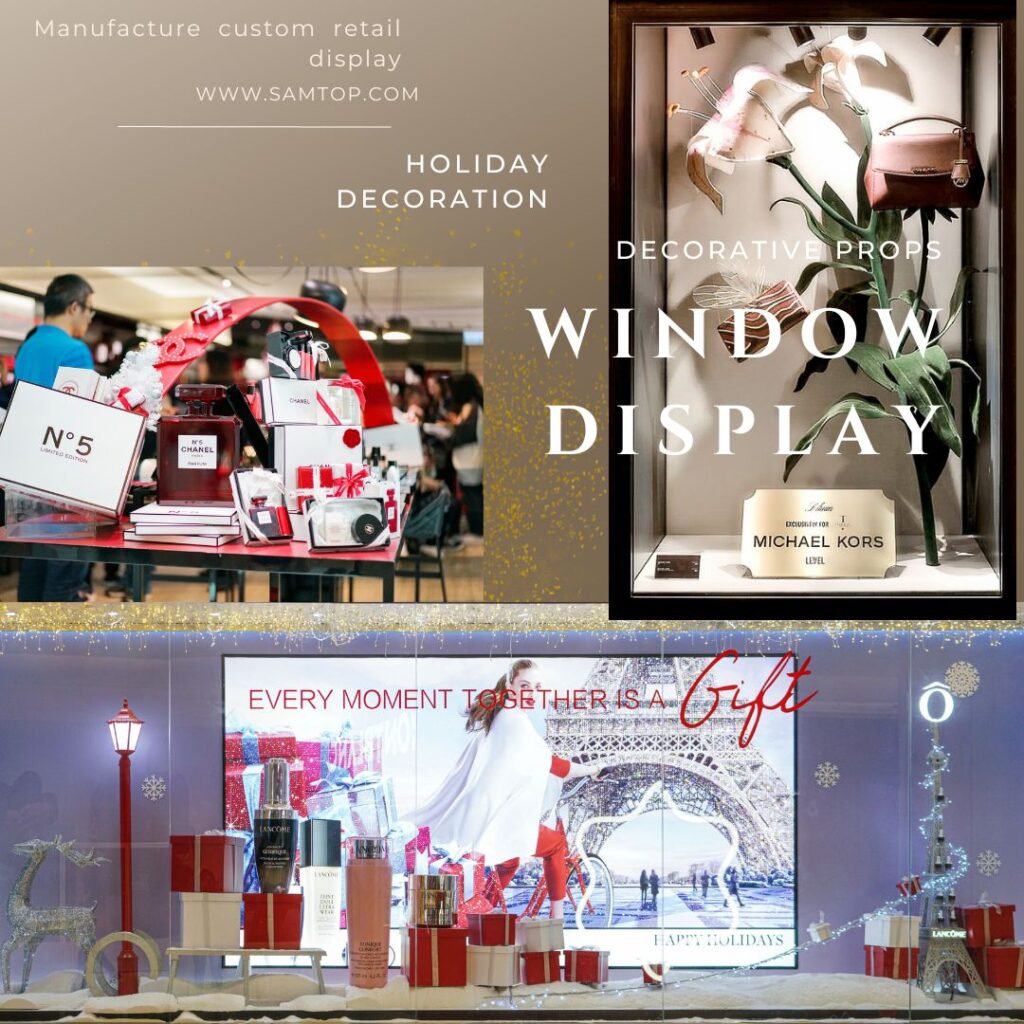 Decorative props: Decorative props are mainly used to enhance the visual effect of the window display, such as lighting, flowers, sculptures, paintings, etc. These props can be customized according to the window theme and brand style to strengthen the overall design effect.
Product display props: Product display props are used to display and support the products inside the window, such as shoes, clothing, bags, etc. These props can be designed according to the characteristics of the displayed products to highlight their advantages.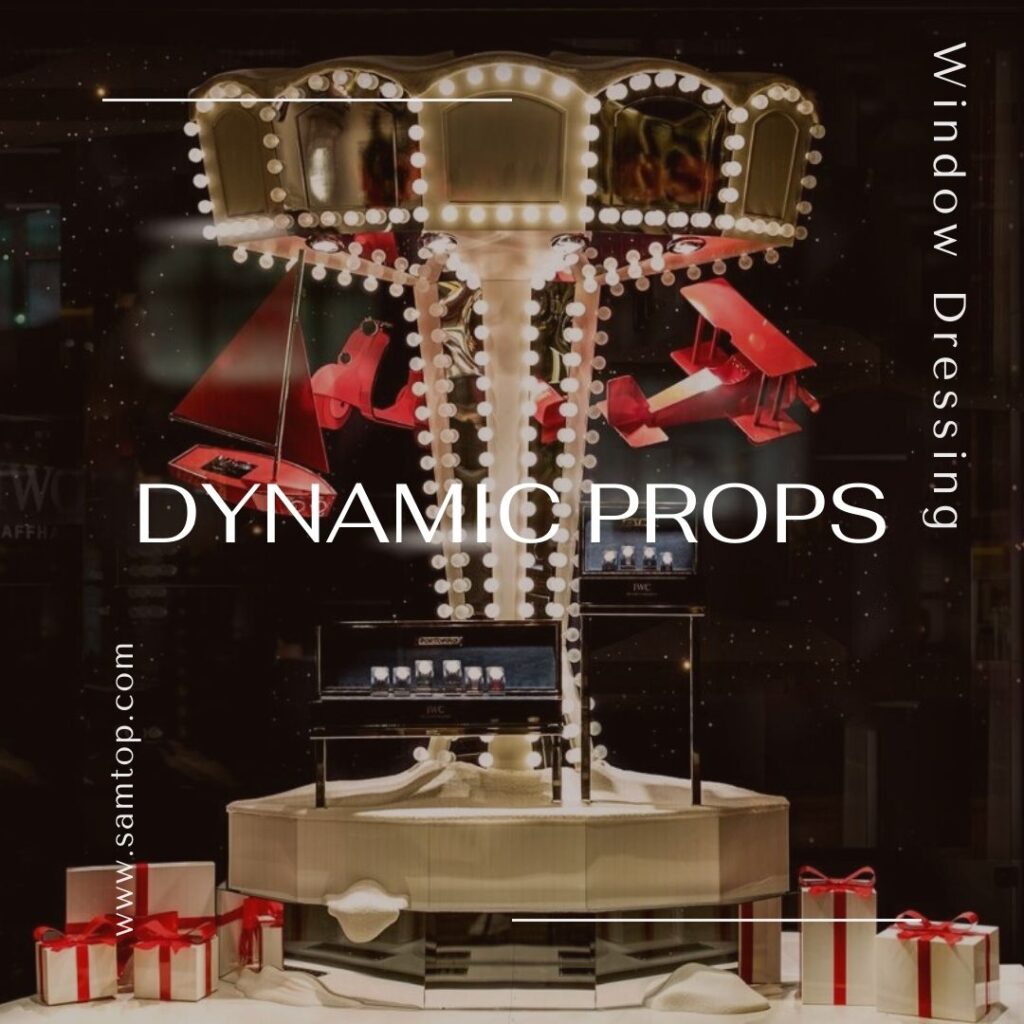 Dynamic props: Dynamic props can add vitality to the window display through movement, rotation, etc., such as rotating display stands, moving devices, etc. These props can be customized according to design requirements to enhance the fun and attractiveness of the window display.
5. Digital and interactive props: These props add modernity to the window display through digital technology and interactive elements, such as LED screens, touch screens, projections, etc. Digital and interactive props can achieve more creative designs and attract consumers' attention.
Step-by-step customization process
The materials and production techniques of Window Display Props are diverse. Common materials include wood, metal, acrylic, PVC, cardboard, etc., and production techniques include carving, laser cutting, 3D printing, etc. Choosing suitable materials and production techniques needs to consider the function, design requirements, and budget of the props.
Secondly, Samtop is a professional supplier of Window Dressing Props, and we are pleased to provide you with one-stop customized services. The following is our step-by-step customization process, suitable for visual display designers and visual production managers of advertising companies:
Requirement collection and design window display concept discussion:
Deeply communicate with customers to understand brand stories, target customers, product features, and display requirements;
Discuss design concepts, including display themes, prop shapes, colors, materials, etc.;
Collect relevant brand visual materials, such as logos, fonts, colors, etc., to ensure that the design is consistent with the brand.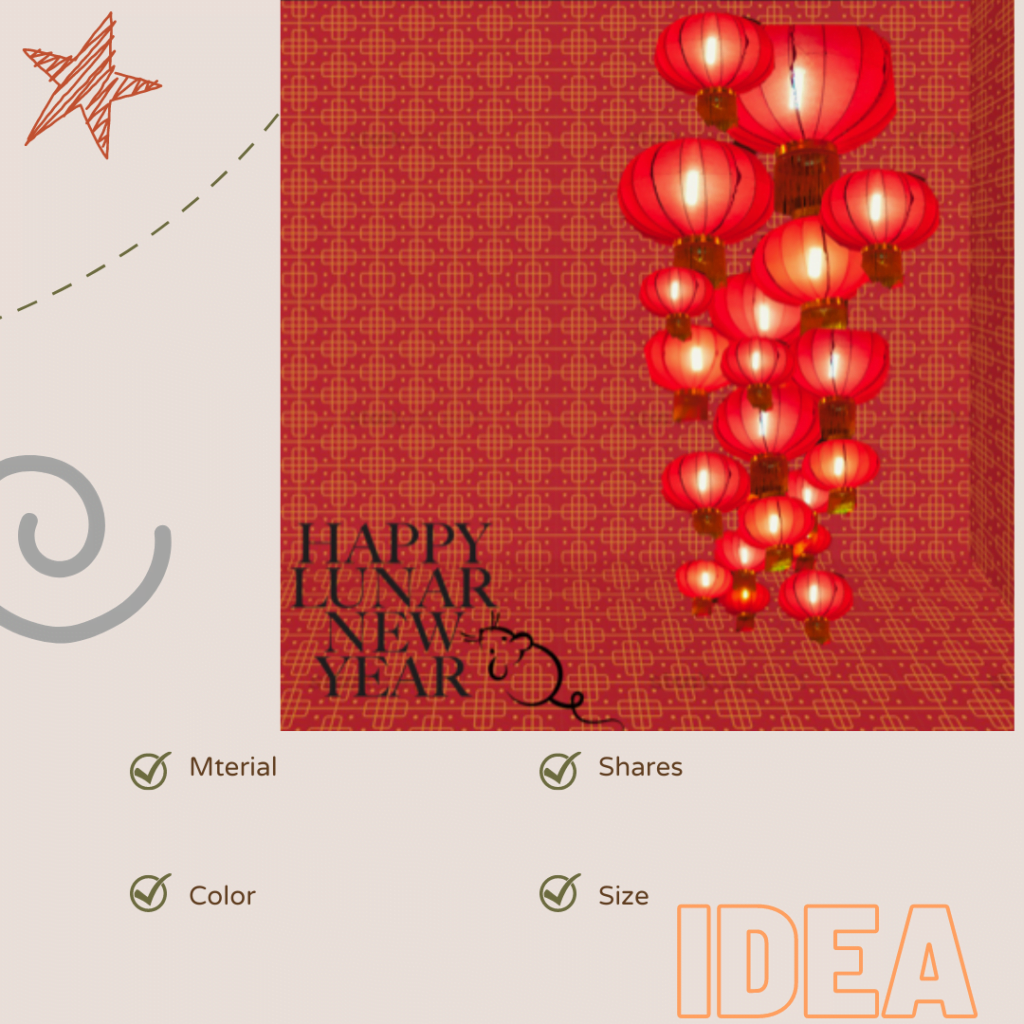 Project evaluation and quotation for props:
Evaluate the difficulty of the project, required materials, and production cycle based on customer requirements and design concepts;
Provide customers with detailed quotations, including design fees, material fees, production fees, transportation fees, etc.;
Discuss the quotation with customers. If necessary, adjust the design plan or material selection to meet budget requirements.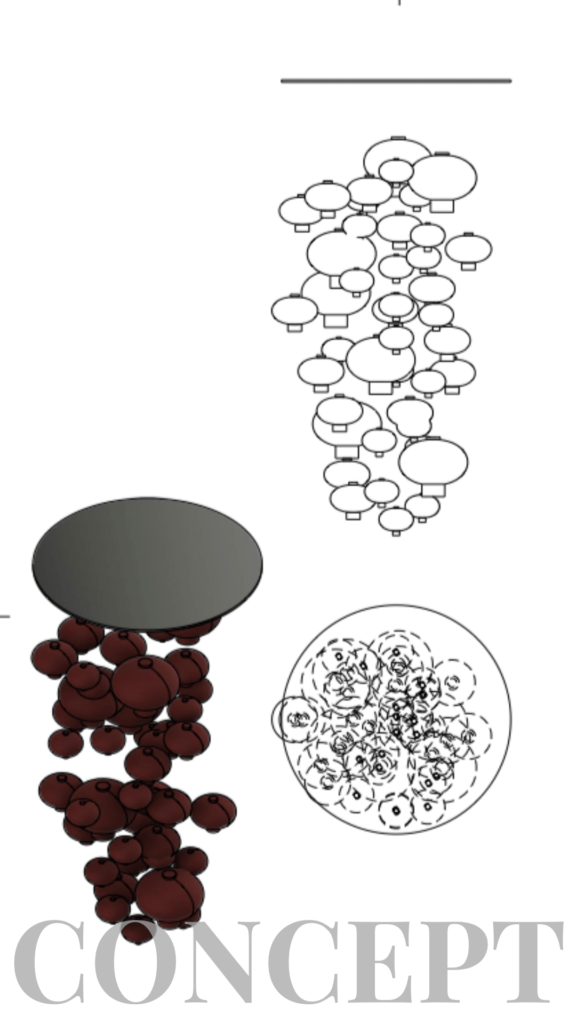 Design scheme production:
The designer produces a detailed design scheme based on the discussed design concept;
The design scheme includes window layout, prop size, material, color, and other details;
Provide 3D rendering to help customers understand the design effect more intuitively;
Submit the design scheme to the customer and invite feedback and modification.
Sample production:
After the design scheme is confirmed by the customer, a sample is made;
Choose suitable materials and production techniques according to the design scheme;
Maintain communication with customers during the production process to ensure that the sample quality and details meet customer requirements.
Sample confirmation and modification:
Send the sample to the customer for acceptance;
The customer confirms the quality, size, color, and other aspects of the sample;
If there are any areas that need to be modified, communicate with us in a timely manner, and we will make adjustments based on your feedback.
Mass production:
Start the mass production after the sample is finally confirmed by the customer;
Regularly report the production progress to customers to ensure timely completion;
Strictly control the quality during the production process to ensure that each prop meets customer requirements.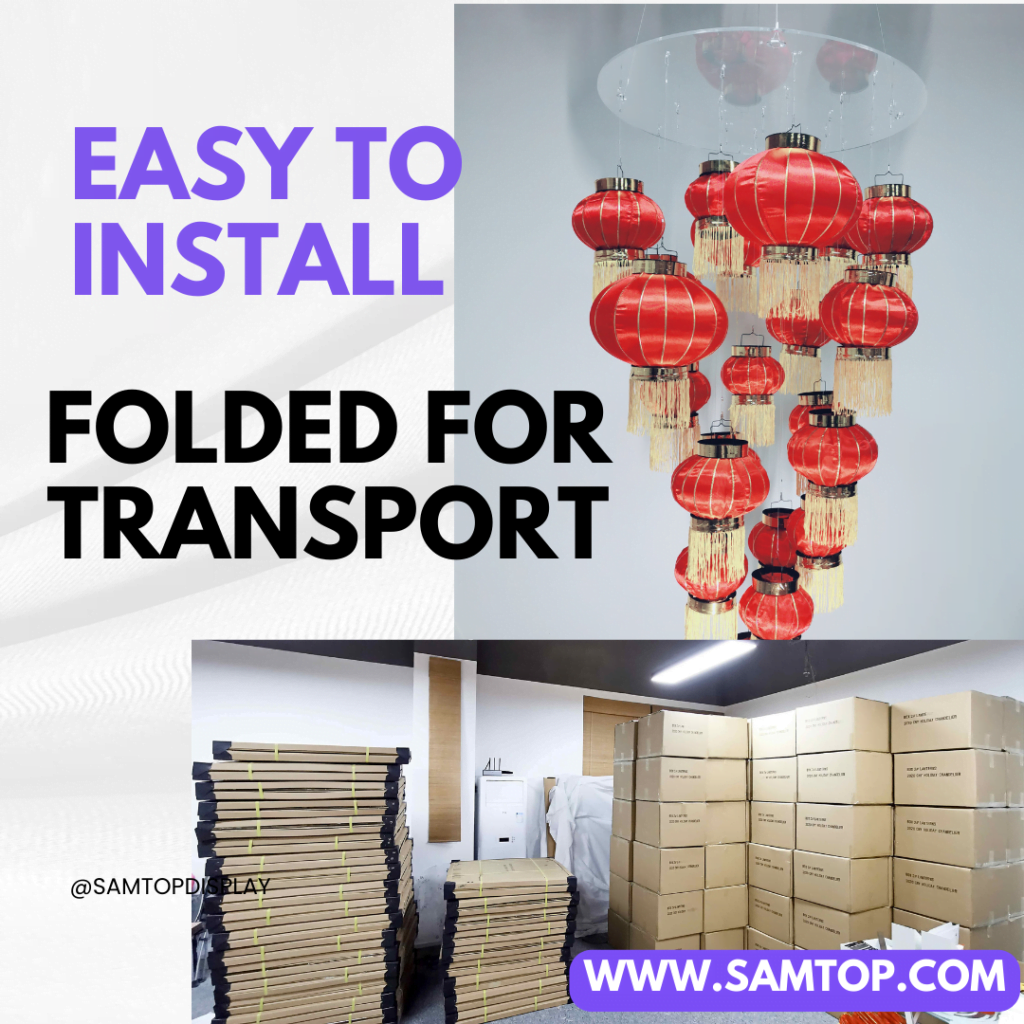 Quality inspection and acceptance:
After production is completed, we conduct detailed quality inspections, including prop surface, structure, color, etc.;
If any defective products are found, we will promptly rework or replace them;
Ensure that all props meet customer quality requirements.
Installation and layout support:
Deliver the customized Window Display Props to the location specified by the customer;
Provide installation instructions, and our team will maintain close communication with the customer during the installation process to solve any problems that may arise.
Through the above-detailed process, we hope to establish a long-term and stable cooperative relationship with customers and provide professional customized services for Window Display Props. If you have any questions or needs, please feel free to contact us. We will be happy to serve you.